Your garbage disposal can be one of the most convenient appliances in your home. They can help you quickly get rid of leftover food scraps and citrus peels. They can even keep your kitchen smelling fresh and reduce the amount of food waste you send to the landfill....
read more
Free Estimate
Contact us today for your free estimate. Please fill out this form, or if you'd prefer, give us a call at 440-871-1112!
We Gladly Accept the Following Forms of Payment:*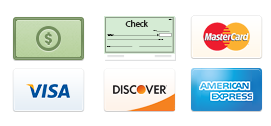 *We impose a surcharge on credit cards that is not greater than our cost of acceptance.