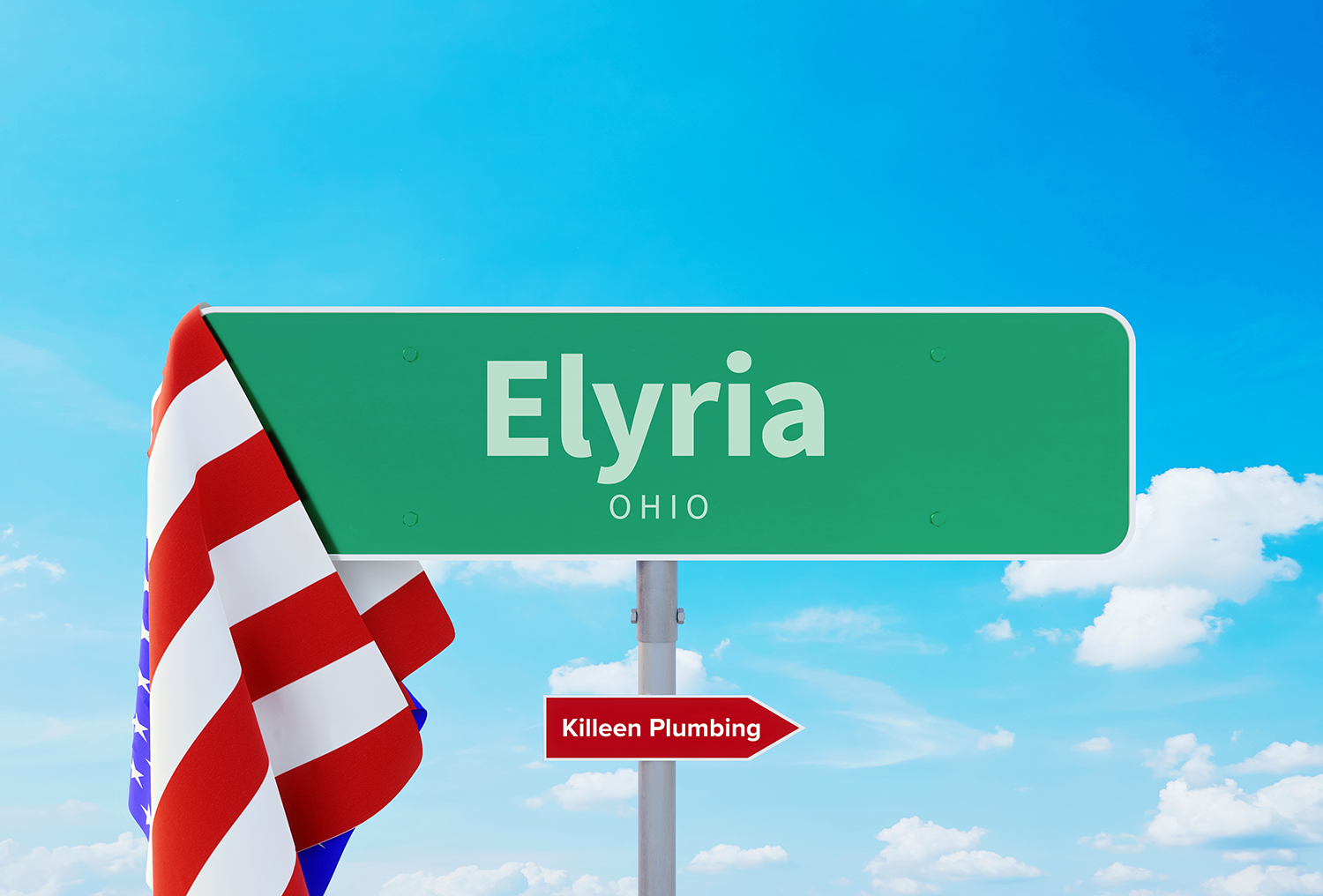 The Plumber in Elyria You Need
The city Elyria has grown from a simple log cabin in the early 1800s to a sprawling metropolitan area of over 54,000 people. With more than 22,000 households and a multitude of businesses and schools, that means countless buildings – and countless plumbing systems that need care.
If your home or business in Elyria is experiencing some plumbing problems or you want some help with a new project, we want you to let us know. We're here to help you find the right solution for your home or business plumbing needs with professionalism, speed, and excellence.
We're Killeen Plumbing, a full-service plumbing company, and we offer homeowners and business owners alike a multitude of plumbing services in Elyria, including:
Bathtub and shower line repair and installation

Drain cleaning

Remodel and installation plumbing

Sewer line inspection, repair, and replacement

Sump pump installation, replacement, and repair

Water heater repair, installation, and replacement

Great customer service
Drains
Drains may be a common concern for homes and commercial buildings, but that doesn't mean that they come with easy solutions. All too often, you end up with foreign objects like toys or keys getting lodged in the drain or a build up of grease and deposits over time. Killeen Plumbing brings you professionals who can help you take care of your drains and get you back into proper working order quickly.
Remodeling
Remodeling your home kitchen or bathroom can bring a lot of excitement — you're creating the space that you've always wanted. But it can also come with unknown problems that you may not know how to handle. That's where Killeen comes in. With our team of licensed professionals, you never have to worry about unseen issues as we keep you apprised of everything along the way.
Sewer Repair and Replacement
One of the most unpleasant things you can deal with when it comes to your plumbing is a sewer issue. You may be experiencing something simple like a foreign object stuck in the line that needs to be back in your hands, or you may have something more severe like tree roots destroying a pipe. Regardless of the problem, we're here to help you handle the problem and get back into work order ASAP.
Sump Pumps
You probably haven't thought about your sump pump in awhile, and you're not alone. It doesn't come to many homeowners minds until they're dealing with flooding issues from a broken pump. Being situated right near Lake Erie and it's tributary, Black River, flooding can be a concern for many of us in Elyria  — that means you don't want to be concerned about a broken sump pump during a storm. No matter the weather, Killeen is here to help.
Water Heaters
As a reminder, it's never a good idea to handle water heater issues on your own. It may seem like a money saving idea, but you can possibly void your warranty as well as cause irreparable damage to your heater and home. Instead of racking up hundreds or even thousands of dollars worth of damage to your home, schedule an on-site visit with Killeen for an inspection. Our technicians can perform any repairs you need — regardless of whether or not we installed it initially. Should your unit be beyond repair, we can give you a fair quote for a new one.
Find a Plumber Near Me in Cleveland
Killeen Plumbing will have you back on your feet in no time, whether you're dealing with a plumbing repair, a replacement, or brand new construction. Our professional and licensed technicians will be able to answer any questions you have as we go through the solution process together. Reach out to our team and get your free estimate today!
Free Estimate
Contact us today for your free estimate. Please fill out this form, or if you'd prefer, give us a call at 440-871-1112!