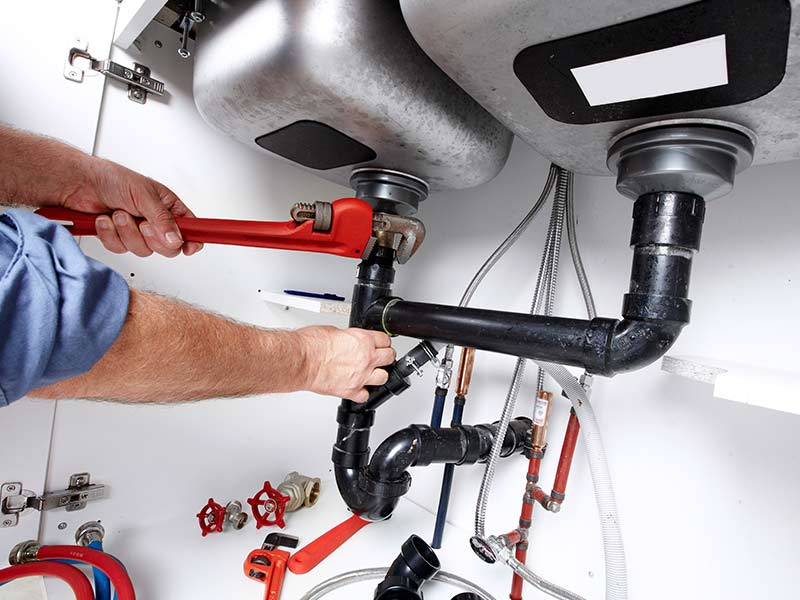 FAQs
There are many questions that will arise when trying to find the right plumber for the job. Listed below are some frequently asked questions about plumbing we get, along with the answers. If you have any more questions, please give us a call and we'd be happy to answer them!
FAQs
There are many questions that will arise when trying to find the right plumber for the job. Listed below are some frequently asked questions about plumbing we get, along with the answers. If you have any more questions, please give us a call and we'd be happy to answer them!
Frequently Asked Questions
Click on a question to see the answer
Q: I am getting water in my basement does that mean I need waterproofing?
A:  The first step in determining if you need waterproofing is to try and find out why?  Clogged gutters, bad grading and broken storm sewers underground are usually the cause of the problem.  We take a step by step process to find out why before waterproofing a wall of your home. Often we can solve water intrusion issues without waterproofing. 
Q: If I do need waterproofing, does Killeen Plumbing do that type of work?
A: Killeen Plumbing has a Highly experienced full time excavation team. Our trusted machine operator has over 20+ years of experience working with the City of Westlake. Job safety is important to our team; shoring is always utilized to protect our workers as well as you.
Q: My friend had his sewer Hydro-Jetted. Does that mean if mine is blocked it should be Hydro-Jetted as well?
A:  Over 95% of blockages are cleared by us using cable machines with specialty cutters often referred to as snakes.  A Hydro-Jet has a place in our industry but generally speaking, we use them on soft blockages, grease in restaurants, and foundation drains around the perimeter of your home that have no slope.
Q: I am considering replacing my tub/shower is that a big job, will I be without my bathroom for weeks?
A:  Surprisingly, the majority of the time with the new shower units that come with side and back walls, we are able to get people up and running in 1 day for a lot less then people expect. 
Q: Is there a service charge?
A:  No.  We are very reasonable and seldom are turned away from doing work at our hourly rate so we do not need to charge extra fees and estimates are always free.
Q: When should I consider replacing my water heater and what options are there?
A:  Anything over 10 years is a bonus.  We have a few more options now with tank less units, hybrid tanks, heat pumps, and power vented units.  We can custom tailor a system to solve any of your hot water needs or plainly just keep it simple.
Q: I have a sump pump. What happens if the power goes out?
A:  First thing I always say to a customer is make sure you have the rider on your policy in the amount you need if your sump pump fails or the sewer(s) back up.  We have more options than ever now from simple systems to complex ones that work with your smart phone to monitor your systems and basement temperatures that will alert you if there are problems.
Q: Why should I hire a licensed plumber?
A:  The main reason is because if the company you are dealing with has a license, they have insurance in Ohio.  It is a state requirement.  No one is perfect and we all make mistakes.  The difference between a good contractor and a bad one is owning up to them and correcting the problems.
Q: My sewer has backed up quite a few times in the past, it is a mess when it does. What can I do so that does not happen?
A: Most sewer back-ups are due to tree root intrusions. We recommend annual cleaning of the lines infested with tree roots and to video inspect the lines after to make sure there are no other issues. It may take a few years for the roots to grow back but we like to make our mistakes on the side of caution. Especially if it is a finished basement. We currently have a few sewers that need semi-annual maintenance do to tree root intrusion. It is hard to gauge how quickly they grow back.
All our employees are paid hourly and do not work on commission and are instructed not to sell you anything you do not need. Sewer cleaning is one of the industry's largest areas where people get taken advantage of.
Q: I am beginning a remodel and will be replacing all of the fixtures, should I just shop online?
A:  We like to stay local and purchase the products from a plumbing supply house.  The Moen and Kohler products we buy through them are made here.  The products they sell at the box stores or online are usually made overseas to compete with the other off brand manufactures.  Also, if a problem arises, we can solve it quite easily with the local supply houses.  Remember too, the people in the show room at these places deal with these products every day and are a great wealth of knowledge when planning your next move.
Q: Our water tastes horrible and I am worried about the chemicals that we could be drinking, what can I do?
A:  You are going to have to do your own homework on this!  There is every kind of filter imaginable in every price range to satisfy your water quality needs.  We can install any system you desire unless it is proprietary to that manufacturer with their own installers.
Q: It takes forever to get hot water in the far bedroom, why? Can it be fixed?
A:  Yes it can.  They have come out with wireless systems now that go under your sink and tie in to your water heat system and are programmable as to when to be ready and at what temperature.  We can also install a more traditional system with a separate re-circulation line if accessible.
Q: I am bringing my mother to live with us. How can we make the bathroom safer and more comfortable to use?
A: Don't do it! Joking aside, there are a lot of safety features that are easily installed like grab bars, pressure balance faucets to avoid scalding, comfort height toilets and seats. They also make shower units that retro-fit in to places where the old tub/shower unit fit with acrylic back and side walls for a quick and affordable solution so they can step over a much smaller thresh hold.  
Q: How can I prevent frozen pipes?
A:  Heat and insulation are the best ways.  They make heat tapes and you always hear on the news, run water at night on really cold evenings.  Keep your cabinet doors open as well.  However, even waterfalls will freeze if it is cold enough.  Insulation alone is not enough, you must be able to heat the lines or you are just insulating cold.  In construction now, we seldom run waterlines in outside walls but when we have to, we will install something similar to an air grate for your furnace to let the heat from the home get in to that outside wall and keep the pipes from freezing.
Free Estimate
Contact us today for your free estimate. Please fill out this form, or if you'd prefer, give us a call at 440-871-1112!